My apologies for the partial feed. Someone brought to my attention the fact that full feeds containing affiliate links violate the Amazon Terms of Service. Since Amazon Affiliate links are the only way this blog makes money at this point (and it's not a lot, just enough to pay my hosting fees), I need to play nice with Amazon. See my Disclosure page for more about this blog and affiliate links.
So, now that we got that out of the way, read on to see my list of books finished in April and whether I'd recommend them:
1.
The Time Traveler's Guide to Elizabethan England
. Nonfiction by Ian Mortimer. My
Goodreads
review:
Good fun and very informative. There's a quote that says, "the past is a different country" and this book certainly illuminates that truth. In some ways, people are always people, acting and feeling like folks generally do. On the other hand, some facets of long ago life are completely foreign. This book does a great job of telling both sides of that.
Recommended for: history buffs, anyone who enjoyed the movies like
Shakespeare in Love
or
Elizabeth
.
Also available for Kindle:
The Time Traveler's Guide to Elizabethan England
2.
The Weight of Glory and Other Addresses
. Nonfiction by C.S. Lewis. I gave this one 5 stars on Goodreads. It is so good. I'll admit that some of it goes over my head, but the parts I understand are fantastic. These addresses are still applicable, as evidenced by the fact that many of the Lewis quotes you see around come from this collection.
Highly recommended.
Also available for Kindle:
Weight of Glory
3.
Naked Once More
. Fiction by Elizabeth Peters. I breezed through the Jacqueline Kirby series (4 books) because I miss getting new books by Elizabeth Peters (Barbara Mertz) and reading these "new to me" books, even though they were written long ago fills some of the void. That said, the Jacqueline Kirby series isn't my favorite. The humor is there and the craft, but I never quite fell for her cast of characters the way I did for the Amelia Peabody series.
Recommended if you're a fan of the collected works of Barbara Mertz (Barbara Michaels, Elizabeth Peters). (P.S. Looks like I first read this in
May 2009
)
Available for Kindle:
Naked Once More
4.
Making Masterpiece: 25 Years Behind the Scenes at Masterpiece Theater and Mystery!
Nonfiction by Rebecca Eaton. My Goodreads review:
I wanted to like this one more than I did. It had a "neither fish nor fowl" feel to it since it is partially the author's memoir, although she never truly achieves transparency or authenticity because so much is veiled, hinted at, or glossed over. The other aspect is a "how Masterpiece" gets made, but it doesn't really succeed there either.
I got the impression that this book was rushed to print to capitalize on the success of Downton Abbey more than anything else. There are several chapters devoted to it, but they never disclose anything ground breaking or insightful.
The book seems most enjoyable when discussing the late Alistair Cooke and other such figures.
My takeaway: I'm envious of her work and the people she interacts with (Helen Mirren! Kenneth Branagh! and more!) and deeply grateful not to have her personal life.
Recommended for: Masterpiece Theatre fans, Downton Abbey groupies.
Available for Kindle:
Making Masterpiece: 25 Years Behind the Scenes at Masterpiece Theatre and Mystery! on PBS
5.
Motherstyles: Using Personality Type to Discover Your Parenting Strengths
. Nonfiction by Janet Penley. My Goodreads review:
Fantastic book about parenting based on Myers-Briggs typology. Helps you find your type and understand your corresponding strengths and weaknesses in relation to your children, your spouse, and other parents.
Helpful to me because my type is rare (INTJ) and I'm also prone to thinking if other folks do things differently they are doing it "wrong". It's good to be reminded that not all things should be measured that way.
As a Christian, I'd like to see someone write this type of book from a Christian perspective because other than a vague reference to "spirituality" this author doesn't really deal with that major factor.
The 16 Myers-Briggs types are just a tool to understand people, but as a tool, I find it far more helpful than more simplistic methods. Now I need to go back through and take a few more notes.
I highly recommend this one.
Available for Kindle:
MotherStyles: Using Personality Type to Discover Your Parenting Strengths
6.
The Cuckoo's Calling
. Fiction by Robert Galbraith (J.K. Rowling). My Goodreads review:
Great characters (the author's touch with names and personalities continues), interesting if slightly predictable plot. I've already ordered the next book in the series so that's a good sign.
My one hesitation in recommending this mystery is the intensely bad language. Galbraith's (Rowling's) style is old fashioned and charming (at least to me) but the characters in this book could make sailors blush. If you blacked out even half the profanity in this novel it would look like a top secret CIA document [redacted]
The style makes an odd juxtaposition with the grit and decay of the story. If they make a movie of this one (and, let's face it, odds are high that someone will), it will be rated R for several good reasons.
Recommended for: fans of gritty and hard hitting crime dramas.
Available for Kindle:
The Cuckoo's Calling
7.
How to Blog for Profit Without Selling Your Soul
. Nonfiction by Ruth Soukup. I ordered this eBook when it was free a few months ago and just now got around to reading it. Some helpful advice. If you're a blogger and you're looking into monetizing, you might want to check this out.
8.
Yes, Chef
. Nonfiction by Marcus Sameulsson. Interesting but sometimes the tone is disappointing. And the politics toward the end were off-putting to me. All-in-all Mr. Samuelsson has lived an interesting life thus far and he's worked hard to achieve what looks like "overnight" success.
Recommended for: foodies, fans of Chopped or other cooking shows.
Available for Kindle:
Yes, Chef: A Memoir
9.
The Jackal's Head
. Fiction by Elizabeth Peters. One of her first efforts and it may be her first fictional work set in Egypt. This predates the Amelia Peabody series but the humor is here, the wit, and the love of Egypt as a setting. Not as polished as her later work but still, I recommend this one if you like her other stories.
Available for Kindle:
The Jackal's Head
Totals for April:
Fiction: 3
Nonfiction:
6
So, what did you read in April? Any suggestions for my May stack?
You can find me and what I'm reading now on
Goodreads
.
Or Facebook:
Candid Diversions
.
Linking up with: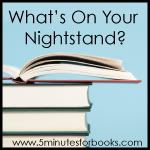 You can support this blog by following the book images, which are affiliate links. Or you could click through to Amazon using this banner:
Don't forget Paperback Swap: