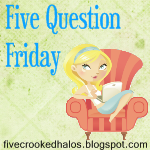 1. Have you ever been robbed and how did you handle it?
Yes. All my jewelry was stolen in February. (See
this post
for more.)
As for handling it, I suppose I've handled it pretty well. Sometimes I still, all these months later, go to get dressed and reach for my earring box or something I used to wear with a particular outfit and I feel quite bereft when that item isn't there. Nothing I had was extremely valuable but it was mine and I loved my things.
So: still sad. But managing. Still very thankful that, as sad as I am about losing my jewelry, no one was hurt and nothing more serious was taken.
2. What do you do at a kids function when Parents don't behave? Meaning they are the ones being impatient and rude.
No idea. Most kid functions we've been to have been friends and family. If it did happen, I'd most likely just leave.
3. Have you heard of a potty party? Will you/have you had one for your child(ren)?
I have not heard of it and therefore, no, probably not.
4. How young do you think kids should be when they start taking swim lessons?
Our local pool takes 2 year olds if Mom or Dad gets in with them. In my observation that is generally a waste of money. 3 or 4 year olds who want to swim seem to get on faster. If a child is afraid of the water I'd wait until 5 or 6 (which we did) so that they're tall enough to stand in the shallow end.
5. What makes you happy?
The salvation God has given me, spending time with Philip, snuggling Baby Boy, laughing with my girls, whipped cream on coffee (or anything), Coke Floats, Cherry Limeades from Sonic, Vanilla Coke at Frisch's, puppies (other people's puppies), swimming in Grandpa's pool, planning adventures, reading a mystery I've never read before, British TV shows, getting free stuff, finding a deal at a thrift store, making lists, beautiful flowers in a vase, writing when the muse is upon me, planning a new homeschool year, using our new camera, and many other things. Small things are the happiest things.
So, how about you?
This post is linked to
Five Question Friday
at My Little Life.