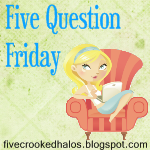 1. Do you wake before the alarm or stay in bed until the last possible second?
Last second. I'm one of those crazy folks who would rather set the alarm for the minute I need to get up and then just GET UP ALREADY. My husband, who actually uses the alarm (I get up and go to sleep with the Baby Boy these days), prefers the "set the alarm for an hour early and then hit snooze every nine minutes until he finally gets up" method.
Drives. Me. Nuts.
2. Who should get a baby shower? Is it just the first baby or all babies?
I grew up in Tennessee where they threw a shower for every baby.
Now I live in Ohio and it's One Shower Per Customer Per Lifetime.
Naturally, I'll admit that I prefer the Tennessee way. But, I also appreciate those folks up here who, though they do not throw a shower, still help out the growing family and celebrate each new baby.
Babies are always an occasion for celebrating, even if you don't have a shower.
3. How will you spend Memorial Day?
This is the first year in a long time I won't be spending it with my paternal grandparents and extended family. I am sad about that.
However, my in-laws are coming in for a visit and we get to spend the weekend with them and I am happy about that. We'll probably grill something and play games but I have no idea what our specific plans are.
4. Do you have a Storm/Hurricane/Tornado/Fire plan for your kids, house..?
Well, we did at our other house. We just talked about what we would do here in the rental house this week. We need to spend a little more time on this, honestly.
5. What is your favorite morning drink?
I drink a hot cup of Constant Comment tea every morning. I also usually drink some OJ to take my allergy pill and a vitamin. I'm not sure those are my "favorite" morning drinks ever but they are pretty set routine.
So, what are your plans for the long weekend?
This post is linked to Five Question Friday at My Little Life.