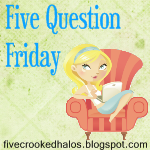 1. Who drives when your family is together, you or your spouse?
Philip, almost always. I don't love driving, other drivers, or cars in general. I'll drive if he's really tired or something, but otherwise it's always him.
2. Are you an introvert or extrovert?
Introvert. (
This post
discusses this in more detail, complete with Myers-Briggs typology)
3. Are you married to an introvert or extrovert?
He's an introvert. But on the scale of Introvert to Extrovert, he's more extrovert than I am. (Clear?)
4. What's your favorite type of social media?
Facebook. Or Pinterest. Those are the two that I
waste
spend the most time on. I've tried Google plus and it's just not clicking with me. And I love Twitter, but I use it more as a "scan to see what's going on" type thing.
5. What's your favorite way to "recharge"?
Quiet evenings at home with Philip, hot chocolate (or a bowl of ice cream, depending on the season), & a good book for usual recharging. (I, as an introvert, require a lot of recharging.)
Night away at a hotel, eating out, and swimming in a nice indoor pool for every once in awhile recharging. (With or without kids. Although the "without kids" type is a rare occasion indeed.)
Another way I recharge is to go thrifting all by myself. I love thrift stores and treasure hunting. My older girls are pretty fun to take thrifting but the younger ones move it from a recharging / relaxing experience into a "hurry and get this done before someone - maybe even me - melts down".
So, how about you? How do you recharge?
This post is linked to
Five Question Friday
at My Little Life.