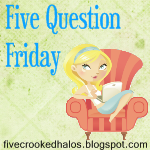 1. Where do you hide things from your kids?
My husband and I have hidden things in our closets, under our bed or in the basement. Our kids are pretty good about not going through things that don't belong to them. This answer relates to things like Christmas presents, birthday presents, etc.
As for the "grown-up" candy (AKA good chocolate or such), we have a separate container for that. It's right in the kitchen and the kids know where it is but they DO NOT MESS WITH IT on pain of Mom seriously losing her cool. (Even my girls know that Mom needs that chocolate.)
2. What is your favorite rainy day activity for bored toddlers?
Playing in the sink (Water! Bubbles!), playdough, finger painting, or putting on boots and jackets and playing in the rain (provided it's not a thunderstorm, of course). Otherwise, they just do what toddlers do. I am not an activities director. I will suggest activities but my kids are - for the most part - on their own. They make their own fun or read a book or I have a list of chores that need to be done (for older kids) or a comfy bed for naptime (for littles).
I've found that if the older kids are busily playing (or busy with schoolwork since we homeschool), then the toddler will play as well. Our two year old has never been bored, as far as I can tell.
3. Are you a punctual person or are you always running a few minutes (or more!) late??
I prefer to be punctual. Really, I prefer to be early. Unless it's an activity where I think we might be the first people there. Then I like to be slightly late. Being first to a party is kind of annoying.
4. When eating out, do you prefer off the beaten path "Mom and Pop" cafes or tried and true national food chains?
Chains. Unless I have a really good reference from some I greatly trust in culinary matters. Greasy spoons and hole-in-the-wall places are not my thing. Unless, as I said, someone I trust has suggested I eat there.
5. Does your significant other snore? Do YOU snore?
No. And no. Although all bets are off if we have head colds. Otherwise: no.
My apologies for the sporadic posting here lately. Things are getting kind of crazy around here: Baby Boy due in 4 weeks. Closing on this house in less than 2.
Crazy
times, indeed. If you feel so inclined, please pray that these things happen they way they are supposed to and that all the INCREDIBLY COMPLICATED logistics work out. (Oh, and you could throw in a prayer that someone moves out of a spacious but inexpensive house that we can snap up and move into before the end of the summer. That'd be awesome.)
This post is linked to
Five Question Friday
at My Little Life.