The girls (well, the oldest 2 plus Sweet Pea on occasion) recently did a week's worth of Volcano study for Science.
I think it was one of our favorite Science weeks.
We used lapbook printables from Homeschool Share:
Volcanoes Unit Study and Lapbook
. We also used a few printables from their unit study:
Hill of Fire
. (Note: we did not read the Hill of Fire book, so I can't speak to its content.)
You can also find a lot of
Volcano activities
at Enchanted Learning.
These are the books we use every week during our Earth Science Unit (some homeschoolers would call these our "spines" for our studies):
How the Earth Works
by John Farndon.
Planet Earth
from Usborne Books
Kingfisher Visual Encyclopedia of Science
Usborne Internet Linked First Encyclopedia of Our World
. (This one is primarily for Tigger and Sweet Pea since it is quite simple.)
Then we supplemented with these nine books specifically about Volcanoes:
Probably our favorite:
Look Inside Volcano
. I mean, who wouldn't love a book with pop-ups and flaps? Highly recommend this one. Even the six year old liked this one and her sisters willingly read sections of it to her.
DK Eye Wonder: Volcano
DK Volcanoes and Earthquakes
Rivers of Fire
by Monica Halpern for National Geographic
Volcano: The Eruption and Healing of Mount St Helens
by Patricia Lauber
Tigger is a huge fan of the Magic Tree House books. She also read the non-fiction companion book:
Which isn't just about volcanoes, of course but also Ancient Rome and all kinds of useful information.
Volcanoes
by Elaine Landau.
This last one was an easier book to read aloud to Sweet Pea:
Landforms: Volcanoes
by Cassie Mayer
One thing we didn't do: make a model volcano. The reason we didn't do this experiment is because we already did one earlier in the year when were on our astronomy unit. (Earth is not the only planet with Volcanoes) Here's what that volcano looked like (we got the directions from our Apologia Astronomy textbook, which we used for the first half of the school year):
So, have you studied volcanoes? What were your favorite resources?
This post is linked to Trivium Tuesdays at Living and Learning at Home. And: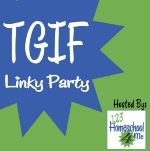 Book covers are Amazon Affiliate links. Action taken with these links could result in compensation for me.