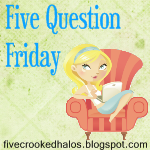 1. Does your family coordinate clothing for church on holidays like Easter?
Not
exactly
. I don't dress us all in matchy-matchy outfits. But we do end up coordinating somewhat. My younger girls like to wear matching clothes even when it's not a special occasion.
We'll see what happens this year - my grandma and I are going to take the girls shopping for Easter dresses. I suspect it will be a fun adventure, considering the strong opinions all my girls have on what they wear.
2. How do you get out of a funk?
- cheerful music
- finishing something
- good nap
- time alone with Philip
- time alone with God
- time
alone
3. Online friends - real friendships or not?
Definitely real. Can't imagine life without some of my friends I've made because of this blog. They've encouraged me, prayed for me, and grown with me. I hope I've done the same for them.
4. What is the one food you must eat in a restaurant (not make yourself)?
Chinese food (other than simple stir-fries or my husband's fantastic Orange Chicken). I don't make a lot of Asian inspired dishes here at home because the ingredients lists tend to be a mile long. So much easier just to pick it up.
5. What would happen in your home if you ran out of ketchup?
Nothing disastrous. One time I mixed up some homemade ketchup to tide us over. It worked OK. My kids are not exactly the, "Put ketchup on everything" kind of kids. But whoa unto the fast food workers who do not put in ketchup packets when we go through the drive-through. Pretty sure I've heard my children call down a pox upon their heads.
So, what about you?
This post is linked to Five Question Friday at My Little Life.