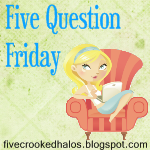 1. What is one thing you wish you did not have to teach your children?
I wish we didn't have to talk about "tricky people" (what people used to call stranger danger or just Child Abductors / Abusers in general) or things like s*xting. (The latter came up this week when Thriving Family magazine was discussing it. My 11 yr old daughter - who does not have a cell phone - brought the article to me and asked, "What does this even mean?")
2. What are you going to use since Google Reader is going away?
I've made the switch to
Feedly
. I don't love it...yet. But I think I will get used to it and maybe even like it better than Google Reader once I get used to it. (P.S. Google - you stink. This is why people hate you. Get people to use your stuff and then pull it out from under them. And no, I do not wish to switch to Chrome at this time. Give me a break. If I could get away without using any of your services I would. Maybe that switch from Blogger over to WordPress is not such a bad idea...)
3. British comedy; Hilarious or strange?
Both. Depends on what specific thing you're talking about. I love the quieter humor (or should that be "humour"?) of some British shows (Like "
As Time Goes By
") and I think things like Monty Python or Benny Hill are nearly incomprehensible and not worth my trouble.
4. Do you prefer card games or board games?
For a quick game, you can't beat a card game. But my husband is a board game designer (Shameless spousal advertisement: check out
his latest
which is doing a Kickstarter campaign right now.) so I feel nearly honor bound to say of course I love board games best. This one, my husband's first, is my favorite:
I also love the games
Settlers of Catan
,
Ticket To Ride
,
Dixit
,
Apples to Apples
, and
Catch Phrase
. (And let me clear up any confusion: no, my husband did not design any of these. The games he's designed that are available to buy right now can be seen in my blog's left side bar. There are more to come but those are out now. And yes, I sure wish he had designed Settlers. We could happily have retired by now.)
5. Will winter ever end?
No. It will always be Winter and never Christmas.
Just kidding.
Of course it will end! The days are already getting longer. We're buying things like Easter dresses and planning for Spring. It will happen. (Just not soon enough to suit most of us, I guess.)
So, how about you? Do you have a preferred alternative to Google Reader? Have you played a board game recently? This everlasting Winter is great for family board game nights...
This post is linked to
Five Question Friday
at My Little Life.
This post contains Amazon Affiliate links. Action taken with these links could result in compensation for me. And if you happen to buy one of my husband's games (see my left sidebar), he gets a small royalty from that too.