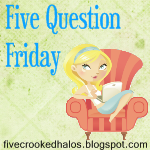 1. What was the most productive thing you have done this week?
Well, we did a lot of Science-y, lapbook type Volcano stuff for school this week. (I used
these
materials from Homeschool Share) We also pulled off a "Pink, Red, & Zebra" party for Miss Sweet Pea on Sunday afternoon. That felt fairly productive.
I didn't go much of anywhere or do much of anything this week. And, other than
dealing with the theft of my jewelry
, that means it was a fairly decent week, after two non-stop weeks of activity and Big Emotional Things.
2. Enjoying the winter or ready for spring?
Spring. Now. Please.
3. Are you an introvert or extrovert? Is your spouse the same as you?
I've answered this
before
but here goes again: Introvert. INTJ on the Meyers-Briggs construct.
4. Would you rather go without music or television for 1 year?
Television. No contest. We never watch television now. We watch the occasional show or movie on our computer but we don't have cable, satellite, or even Netflix (Yet. Someone gave us a subscription but we're still discussing it.)
Music, on the other hand, is like breathing. It is necessary for life. (And I still prefer my Crosley that plays records, CDs and the radio to my mp3 player. I'm old fashioned like that and I like music the whole family can enjoy at once.)
5. Have you ever been truly scared of someone?
Yes. Primarily of people who give me that "Something's not right there" vibe. Predictable meanies can often be avoided. Mentally unstable people = terrifying.
And after having our home broken into last Sunday, I have to admit that I'm scared to leave our house unattended and, though I'm not actually
scared
of the guilty kids, it really creeps me out to think about someone being in my home that way.
Home should be a castle, right? Well, right now I'm thinking this castle needs a moat and some alligators and some hot boiling tar (you know: just in case). I suspect I'll settle for an alarm system.
How 'bout you?
This post is linked to Five Question Friday hosted at My Little Life.