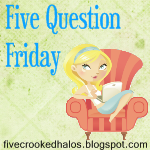 1. What is your favorite book to read with your kids?
Oh, so many! But my favorite
might
be
Little House in the Big Woods
. It's my favorite "Little House" book and I don't get tired of reading it. As for picture books, well, I love lots of the old ones:
And, the new classic:
2. After having kids, what body part has changed the most?
Shorter list: what
hasn't
changed. And I'm having trouble coming up with any examples for that list too.
3. Would you ever go back to college? What would you study?
Some day, maybe. When the kids are grown (minimum of 18 years and 3 months from now). I've got time to figure out what I want to be when I grow up. I love learning and I love study and I'm not afraid of class work. Narrowing down my options and figuring out how to pay for it would be the big questions.
4. How do you close a phone call? Bye, bye bye or other?
Bye. I think. I don't make a lot of phone calls. When Philip calls me we always end with, "Love you," but I don't find that appropriate for all other phone call situations.
5. What is the one food that will always be your "cheat food" on a diet?
Well, I don't diet, per se, so I guess that means all foods are my cheat foods. I'd be hard pressed to give up chocolate under any circumstances so I guess that makes it my #1 Cheat.
So, how about you?
This post is linked to
Five Question Friday
at My Little Life.
This post contains Amazon Affiliate links. Action taken with these links could result in compensation for me.