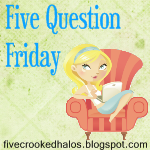 1. Have you set any goals/resolutions for 2013?
I made a little list. I'm trying to focus on just a few things instead of taking on everything all at once. January makes me want to do that: declutter everything, fix every bad habit, start every good habit I've ever heard of but haven't applied, lose 20 lbs, make elaborate homeschool schedules...
I have to fight that tendency because when I try to do everything: nothing gets done. So I have some specific things I want to work on right now: I want to blog consistently 4-5 times a week, I want to learn more about our new camera and take better pictures, I want our family to start a prayer journal, I want to read 10 more books than last year, and I want to read aloud to my children more consistently than I have been the last few months. There are a few more things on my list but it's pretty low key, all in all.
2. Have you made any travel/vacation plans for 2013?
Well, not exactly. I'm not sure a family vacation is going to happen this year, with a new baby coming in May. But Philip and I have already started dreaming about what we might do in Summer 2014 - our 15th Wedding anniversary. We went to the UK for our 10th and it would have to be a pretty amazing experience to top that.
3. What room is never cleaned in your house?
Our house is 5 rooms including the bathroom. They all get cleaned on a regular basis, although I'm willing to admit that my idea of regular may be different from yours. The only place that doesn't get cleaned is the basement, not-so-lovingly referred to by me as "The Cellar" (when I'm feeling generous) or "The Dungeon" (when I'm not).
4. What food must be in your house at all times?
Coffee - for Philip, dark chocolate - for me, and eggs. As long as we have a carton of eggs no one will go hungry.
5. Are you a hugger or more of a hands off person?
Hugs from family (or friends who are like family) = good stuff. Hugs from random folks that haven't really moved into "like family" status in my mind = awkward. I'm a firm believer in the "side hug" for most situations.
I'm pretty big on physical affection as one of my primary love languages (See this book for more on that subject:
The 5 Love Languages: The Secret to Love That Lasts
) but I'm
not
a fan of forced affection.
My husband is starting to figure out that I operate a lot better when he makes sure to hug me for no reason multiple times a day. But if random acquaintances and friends started trying to hug me every time they see me, I'd shut down. So I guess that means I'm not a "hugger". (A term which always makes me think about that mean purple bear in Toy Story 3. "One thing you have to know about me: I'm a hugger."
Creepy
.)
How about you? Want to share your 2013 resolutions? Planning any exciting travel this year? Do tell!
This post is linked to 5 Question Friday at My Little Life.