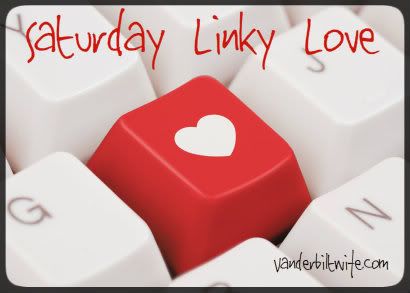 A links post on Monday? What is this blog coming to? (I'm apparently OK with ending sentences in prepositions now, as well. I must be coming down with something.)
Well, it's like this: I was out of town Saturday visiting the newest nephew. And then, back home Saturday night, I was far too worn out to contemplate getting up a blog post.
I almost skipped my links post entirely, but I wanted to share some links that have been helpful to me in light of Friday's senseless, violent, sinful tragedy. I can't just ignore it. Dear friends, I hope you know my heart: when I also share my fun links, my pins, the blog posts that made me think, I'm not trying to ignore the reality of evil or whitewash the news. The world in which we live is sin cursed. It is not a safe place. And yet we are called to spread the good news of the gospel, a truth that includes the reality that our Savior took on human flesh and became Immanuel, God with us. We are called to hate sin: the sin we see around us, yes, but especially the sin in our own hearts. We've been reminded, I hope, that
Death is still our enemy and Christ is still our Victory
.
Here are some posts that have resonated with me in the last few days:
Another post that references the above song: Goodwill to Men by Erick Erickson.
The folks at The Gospel Coalition have had several stellar posts in the last few days. Here's one by Kathleen Nielson that I needed today: Where Shall We Put This Grief?
Definitely agreed with this one: Newtown: Time to Operate on a Need to Know Basis by David Murray. The 24 hour news cycle is not helping you to deal with this tragedy. It is not helping you process your grief. It is not helping you spend more time with your loved ones. Be informed, yes. Be obsessed with watching the news, no.
Moving on to some other thing that have made me think recently:
Kevin DeYoung asks and answers: What is Hypocrisy? Here's a hint: you're not necessarily a hypocrite if you're not a perfect Christian.
For the Holidays (Christmas Eve is next Monday. EEK!):
A Mother's Heart. Reflective post about the birth story (and so much more) that Mary experienced.
What is an Ebenezer and Do I Need to Raise One? Come, Thou Fount is one of my favorite hymns. It should be one of yours too. (OK, it doesn't have to be but it could be.) And therefore, you need to know what an Ebenezer is. (And yes, this post mentions Ebenezer Scrooge, too.)
Some recent pins:
Fun Ideas:
So Cute:
More Ornament Ideas:
Wishing you lots of love, grace, and peaceful times this week, friends!
Linking with Saturday Linky Love by Vanderbilt Wife