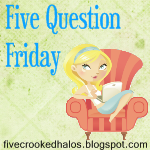 1} What snack/drinks do you eat at the movies?
None because I am far too frugal to pay those prices. Also: the last movie I went to was a year ago. See: too frugal. Going to the movies is not really my thing and taking children under the age of five to the movies is REALLY, REALLY Not My Thing, like I would rather have a gynecologist appointment than take toddlers to the movies.
If money were no object and I actually went to the movies more than once a year, I'd probably want a Cherry Coke and some Sno-caps. The popcorn always smells good but I know from experience that it never tastes as good as it smells.
2} What's one food you refuse to ever try?
Balut
.
Otherwise, I'll generally try anything once. And I love a lot of foods that other people seem to hate: oysters, squid, artichokes, asparagus...I could go on.
3} What's your favourite nail polish color?
Don't have one. Rarely ever paint my nails. Can't stand for my daughters to have their nails painted, either. (Nail polish on little girls = immediately chipped = immediately untidy looking little girls) If I do paint my nails or toenails, it's generally a pale pink or white.
4} What is your favorite Thanksgiving tradition?
Listening to Christmas music when it's over.
Philip and I have never owned a house large enough to host Thanksgiving for ourselves. So we've never really established traditions for our family, which would make me sad if I thought about it too much. So I don't. I just look forward to cranking up the Christmas music. Christmas = lots of traditions for us.
5} What are your least favorite words in the English language?
Moist, vomit, insurance, construction, and spinster.
I could go on, but I won't.
What words would make your list?
Five Question Friday is being hosted by Kate's Life this week.