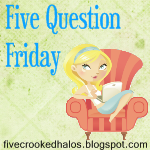 1. What terrifies you the most?
Something terrible happening to my husband or our children. Definitely don't want to dwell on this one very long.
If we're talking about phobias: definitely snakes. To quote Indiana Jones: "I hate snakes, Jock. I hate 'em!"
2. Favorite fall/winter drink?
Something with chocolate or caramel and lots of whipped cream.
3. Do you and your spouse have the same political views?
Absolutely. And this is a very good thing since we both feel strongly about our political convictions. I can't imagine what life would be like if we were arguing about politics all the time and cancelling out the other's vote. (True confession time: while we agree 100%, he's a lot more optimistic than I am. Which means he spends a lot of time talking me down off the proverbial ledge as far as politics are concerned.)
4. What was the last book you read? Was it any good?
The last book I finished was:
It's well done but it is certainly
not
light reading. Now I'm reading:
Orthodoxy
by G.K. Chesterton. It's so good and so witty that I've found myself reading a lot of it aloud to Philip.
5. Do you look forward to the snow each winter? Why or why not?
Snow, yes. Ice, no. I love pictures of our girls playing in the snow and making snow people and other things. I hate when ice makes roads treacherous or takes down power lines. Snow = good. Ice = bad.
How about you? Do you look forward to snow or is it something you dread? And do you have a favorite hot drink recipe? I love trying new recipes in the Fall and Winter.
This post is linked to
Five Question Friday
at My Little Life.
This post contains Amazon Affiliate links. Action taken with these links could result in compensation for me. Opinions are my own.