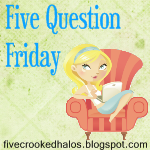 1. Who wakes up in the morning with the kids, you or hubby?
Well, it depends. Our flexible schedule means that there are many mornings when the girls are up (or at least out of their room) before we are. They know how to turn on a DVD (the only time of day they watch a movie or old cartoon) and pour their own cereal & milk if they're hungry.
Other days we're all up together. On Sundays, Philip has to wake all of us up. Sunday mornings around here = finely tuned chaos.
2. Do you watch the World Series even if your team isn't in it?
Sometimes. I've seen a little bit of both games so far, although I can't say I'm particularly excited about either team. I did watch most of the NL playoffs even after my team was out, and I'm glad I did. (Just so I could watch the Giants put the Cardinals in a world of hurt. Those last two games I almost wished there was a mercy rule to put The Birds out of their misery.
Almost
.)
3. What is the best compliment you have received?
Wow. I don't think I can remember a specific comment but I do treasure any time someone praises how our girls are turning out. I know I can't take credit for how amazing they are, but it is nice when someone notices we are trying to raise them right. Really, most compliments (provided they're not the "backhanded" kind) are wonderful. We are fortunate at our church to have several people who are amazingly encouraging and who take time to give real, genuine compliments.
4. Do/did you dress up to take your kids trick or treating?
Nope. I usually have to bundle up (seems like the end of October is usually freezing up here), but I'm not much for wearing a costume.
5. Do you have a favorite Bible verse? What is it and why?
So,
so
many. But this is the one I claim as my favorite most often (emphasis added):
Mark 9:24 And straightway the father of the child cried out, and said with tears, Lord, I believe; help thou mine unbelief.
Really, I could fill a blog post with favorite verses. Actually, I did. And if you'd like to see what I called my "30 Favorite Verses" you can read that post
here
.
How about you?
This post is linked to Five Question Friday at My Little Life.