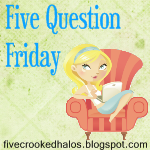 1. What is one grammar issue you cannot let go without correction?
All of them
. I am a grammar stickler. If I had to narrow it down, these are a few that make my eyes twitch: misplaced or missing apostrophes, people who say things like this, thinking it makes them sound smart, "Thank you for your kindness to Edgar and I," (in other words, a general lack of knowledge on when to use
I
,
me
, or
myself
) and general sloppiness. Everyone makes mistakes, but there should be some effort made to improve. (
Grammar Girl
is a good website if you'd like to improve your grammar skills.)
2. What's your favorite thing about fall?
Cooler temperatures and the smell of wood smoke.
3. What's your favorite dish to take to a potluck?
A big salad or fruit salad. Or a dessert. You can never have too many desserts.
4. When do you start Christmas (Holiday) shopping?
Around Thanksgiving and no, we do not "do" Black Friday. For one thing, we are usually in TN on Black Friday, which means we would have to pay extremely high sales tax, plus get the stuff home to OH. Not to mention that getting up early is one of my least favorite things to do.
Philip and I do buy a few things through the year for our girls but we don't for other people. We have a strict budget and we have a method to our shopping. (Yes, a spreadsheet is involved.)
5. Did you move homes a lot growing up?
Nope. We lived in one house until I was four and then we lived in the next house (in another state) until I was 18. Then I got married & moved to an apartment with my husband while my parents and siblings packed up and moved out of state. (True story.)
Philip and I have lived in two different apartments and then we bought this house. It's for sale right now, because we have really outgrown the space, but it's bittersweet because this is the only home my girls have ever known.
That's it for this week. If you'd like to share your answers, come join up at
My Little Life
or you can fire away in the comments.