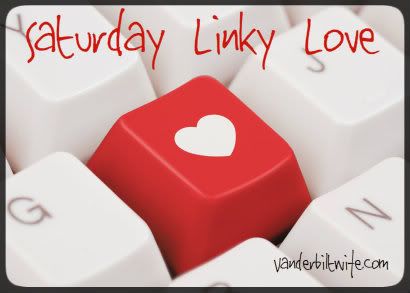 Just a few highlights (lowlights?) of my week:
our air conditioning went out
twice
once when we had a house showing scheduled
the roofers and the insurance adjuster are still playing "Catch me if you can"
the showing went OK but the people pointed out (to their realtor) that they can get a bigger house for basically the same amount of money
which I know, because that is what we want to do (sigh)
we took a quick trip down to KY for a funeral visitation
which was actually a peaceful time and we got to spend time with family
but we're still sad for my Mamaw who just lost her last living sister
we celebrated our lowest key anniversary yet (13 years is just not that exciting, I suppose)
But, anyway, despite being Summer it was kind of a crazy week. We're trying to focus on the stuff we can fix (calling the roofers / insurance,
again
) instead of the things we can't (the house we wanted is already pending for someone else).
On to the links!
1.
How to Stop Being Frustrated By Frugal Blog Posts
. Most of the time, I feel like a Black-Belt frugalista but some frugal blogs still manage to make me feel inadequate. That post is good advice for how to stop that from happening.
2. Jimmie shared a list of
Top Ten Public Domain Books for a Charlotte Mason Homeschool
. It's a great list for reference whether you homeschool or not.
3. Great convicting post:
A Wife of Humility, Avoiding Selfishness in Marriage
. And here's a related post:
Peace and Comfort
.
4. Technology may come and go (and change. And get more powerful...) but our sin problem? That's
Different, Yet the Same
.
5. I don't have any children diagnosed with ADHD or ADD (although, honestly, I have my own suspicions about at least one of my children) but I could so identify with this post:
ADHD and Daughters and Moms and Mouthiness
.
6. I know there are many women who would appreciate the advice and encouragement from this post:
What to Wear When You've Lost a B.r.e.a.s.t
(just trying to protect myself from the worst of the spammers with that punctuated spelling, not because I'm a seventh grader at heart)
7. Obligatory UK post of the week:
Pomp and Ceremony at the Trooping of the Colour Parade
.
8. Bonus UK post of the week: Prince William turned 30 this week. Which means you'll probably want to look at this
photo retrospective
. (I suppose it's disloyal to say so, but
wow
, he peaked early.)
9. I agreed with this post (although not with all the content on that site, be warned!):
Most Internet Trolls are Probably Trolls in Real Life, Too
.
10. Finally, you probably want to enter the giveaway my mom is hosting:
Summer Slump Slam Giveaway
. You could win one of Philip's most recently published games AND the children's game Polly invented. (Plus, if you go over there, you can find out what Polly's
real
name is. Hint: it isn't Polly.)
Pins of the week:
Not much. But this made me lol:
So, what did you stumble on this week? Consider sharing your link post with
Saturday Linky Love
at Vanderbilt Wife.