I've done a lot of grumbling lately about stores closing, magazines ending, and so on. So what am I replacing my magazine habit with?
Blogs, of course.
I'm going to take a risk and tell you my favorite inspirational blogs on Saturdays. This week I'd like to mention: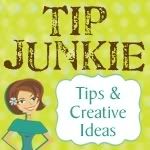 Oh my stars and garters: this site is
wonderful
! It's beautiful, inspiring, and helpful. Go there.
Now
. You will want to turn all your trash / recycling into beautiful things. (An altered diaper wipes container is in my near future for my first project. And to think I've just been throwing them away.)
I've added a link in the left sidebar. And if you make anything or decorate anything because Tip Junkie inspired you be sure to let me know. I need all the encouragement I can get.